Agricultural District Authority Styria
Scope of responsibility
The Agricultural District Authority for Styria is based in Graz, operates a branch office in Stainach and a service centre in Leoben. It is in charge of all land reform matters.
Land reform is to be understood as the implementation of a set of measures that are taken to adjust and restructure the traditional ownership, use, cultivation and management conditions in a targeted manner. This must be in compliance with the relevant legal provisions and in accordance with the changing agricultural, social and economic needs and requirements in order to achieve an improvement of the agricultural structure.
In accordance with this mandate, the Agricultural Authority enforces the following laws, i.e. state laws based primarily on the basic federal legislation:
Administrative assistance for local and other authorities:
for local authorities:
Preparation of expert opinions regarding spatial planning matters (structures in the open countryside within the context of agriculture and forestry)
for the district administrative authorities and other offices of the State of Styria:
Preparation of expert opinions in nature conservation and clearing procedures, as well as procedures subject to the Act on the Protection of Farmland, and similar.
Local competence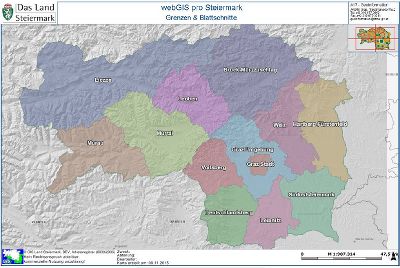 Agricultural District Authority Styria, GRAZ:
in charge of the districts:
Deutschlandsberg, Graz, Graz-Umgebung, Hartberg-Fürstenfeld, Leibnitz, Südoststeiermark, Voitsberg, Weiz
Stainach branch office with service centre in Leoben :
in charge of the districts:
Liezen, Murau, Murtal, Leoben, Bruck-Mürzzuschlag